Decentralized Trade Copier and Multi Account
Management Platform
The solution allows you to transmit trading signals to your followers/investors
and manage their accounts opened at different brokerage companies.
Self Service Platform
Nothing to install. Just register to add your Master account(s) and link Slave account(s) within few minutes.
No Set Up Fees
Nothing to pay upfront. Start copy trades immediately after registration. Add 1 Master + 1 Slave account free of charge.
Pay As You Go
We charge you a small fee daily which is based on the number of connected accounts. No long-term prepayments. No profit sharing.
More Benefits
Our technology is particularly useful if you need to duplicate trades and strategies (EAs) that run in a main account (called Master) to several other accounts (called Slave) or vice versa from several Master accounts to one Slave.
With our solution you are totally free to use your existing accounts whatever your broker is (you can copy between any brokers on MT4/MT5 platforms).
You don`t need to keep your PC on or buy VPS servers. Everything is hosted on our servers and running 24/7. Manage unlimited number of accounts easily.
Flexible duplication trading settings (proportional lot, fixed lot, revers trading, partial closure, predefined SL/TP, limit number of trades, account protection by equity and many others).
A trading account performance
monitoring platform
The platform allows to monitor your trading account performance and automatically publish results on your own
branded premium-level website. The solution is designed to provide clear stats of your trading activities to investors.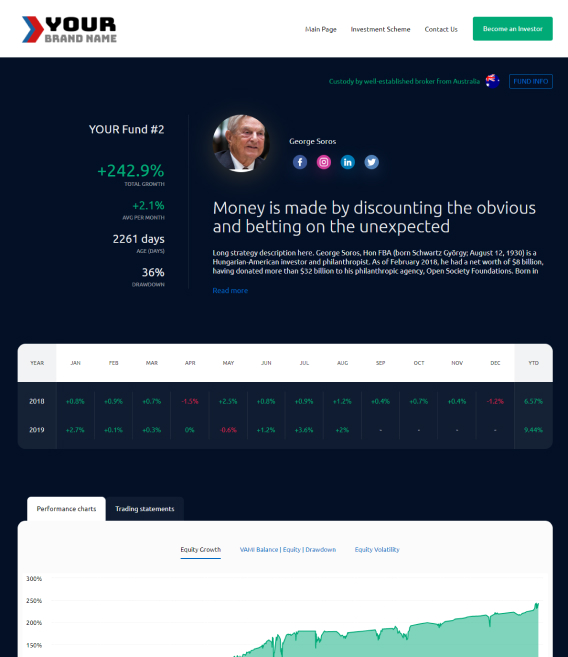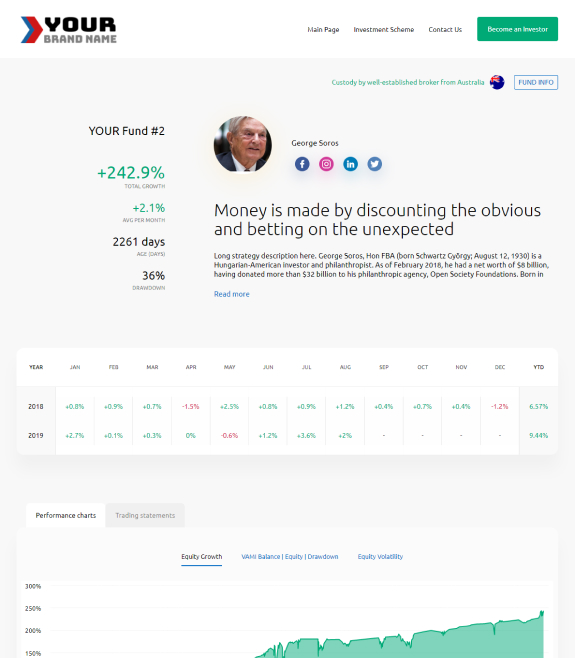 Benefits
The website will be branded with your logo/brand
Access through your own domain name (e.g. www.myfund.co.uk)
Use your own title, text description, contact details, etc.
All requests from investors will be forwarded to your email
The website can be translated into any language and supports several language versions
We run real-time performance audits on our servers and can automatically publish results on your website
The website also contains a page describing the "Investment Scheme" which helps to convert investors
You can run unlimited funds monitoring under your brand. For example, you can use various strategies to manage different master accounts/funds, some of which can be private and hidden from the public
The website is mobile-friendly and adaptable for IOS and Android